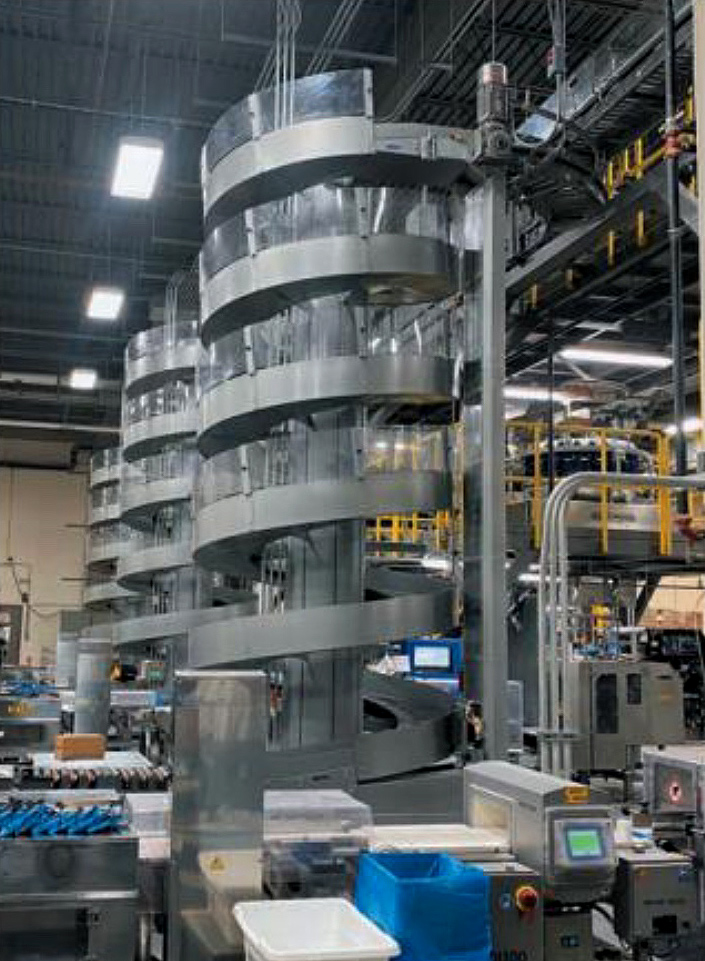 This week, we are highlighting a very common application for our Case Spirals. They are used to elevate product right after the case packer and send them overhead to the palletizing area.
These Spirals also feature extended Lexan side guards for additional security and safety. This is a optional feature that Ryson offers with any spiral. Ryson also offers many other optional enhancements. They can help our basic design adhere to a company's safety or hygienic standards.
PMMI featured the full scope of this project in their SHOW DAILY publication, which is distributed at Pack Expo. The article highlights a key Ryson Benefit – Space Savings. Before the upgrade the case-packed boxes would get trucked to a secondary location for bundling and palletizing. But because of the space saving spirals, and other updated automation, the entire operation is able to fit in the existing building.
The Ryson Spiral Conveyors are frequently used as elevators or lowerators in packaging lines, many of which run 24 hours a day, 7 days a week. They are ideal in cold storage and freezer applications where floor space is at a premium. Ryson Spirals are also very attractive as continuous lifts between floors in multi level order picking systems or any other vertical conveying applications with limited space available and a need for high reliability. This includes mass flow of full or empty bottles, cans, jars and other similar containers.
You can read the full SHOW DAILY story here. You can also find more information about our Case Spirals, download the spec sheet or read about more current packaging applications in our weekly news blog.