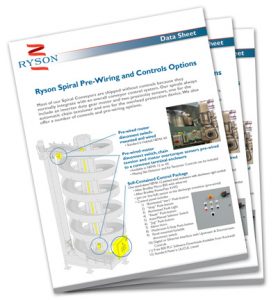 Ryson spirals do not come standard with controls or pre-wiring. This is primarily because most spirals are integrated with an overall control system provided by the systems integrator. However, we do have many pre-wiring options available. Many times if a spiral is replacing other equipment, or is just for a line change, it may be more cost efficient to order a spiral pre-wired – plug and play – if you will. It can drastically reduce implementation time.
We recently updated our Pre-Wiring information sheet and it is available to download. There are many common options listed. We are also willing to customize options to your specifications.
All Ryson Spirals require a variable frequency drive to operate properly. This is because the  drive system needs to ramp acceleration and deceleration to assure smooth operation and product stability.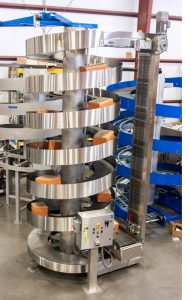 Some common options include:
Pre-wired motor disconnect switch

chain tension and motor overtorque sensors pre-wired to a common terminal enclosure

Self-Contained Control Package

Missing Slat Detection System

Reversible Spiral Pneumatic Kit

MDR (Motorized Powered Roller) Transition

Movimot motor

Simplified Control Package
For additional details about our pre-wiring options, download the Ryson Wiring Options information sheet here. You can also read some application stories about pre-wiring in our weekly news blog.