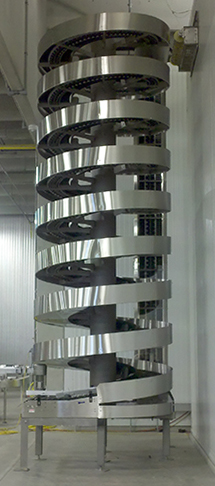 A 22 foot tall stainless steel washdown Ryson Spiral Conveyor is in the process of being installed at a major food manufacturer in Michigan. The spiral is 8 1/4 turns and will convey single serve microwavable meals down from a spiral freezer in a single file to a packaging line at floor-level.
This application offers substantial savings compared to conventional spiral freezer methods. Products are conveyed down to floor level on the outside the freezer. This design allows the cost savings of both a smaller freezer and only having to use one up spiral freezer. Traditionally, a larger freezer would be required to house a a pair of the more expensive freezer spirals.
All Ryson Spiral Conveyors are made to order and are manufactured in a wide range of sizes and configurations. All our vertical conveyors can operate up and/or down in a clockwise or counterclockwise rotation. All Ryson Spirals are available in powder coated carbon steel, stainless steel, washdown, stainless hybrid and freezer versions.
The integrator on this project is Selectpack out of Michigan.