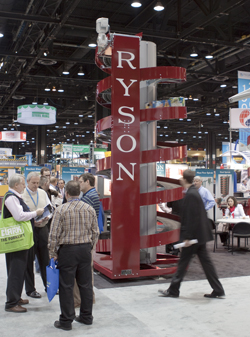 Ryson is having a fantastic show this week at ProMat 2011 in Chicago. We are meeting new systems integrators that are very impressed with our vertical conveying technology and end users who wouldn't normally be exposed to innovations and solutions like the spiral conveyors.
The tall red Ryson Spirals are running during the show and always stop people in the aisles. The new high capacity spiral conveyor with the multiple infeed induction conveyor is impressing many of our integrators that service the distribution and warehousing markets. It becomes clear how this technology can add efficiency to warehousing flow as well as minimizing the cost of ownership.
Below you can view some footage of our miltiple infeed spiral conveyor.