In our continued efforts to expand the Ryson brand throughout the US, Canada, and Latin American Countries,  we will once again be participating in the annual ExpoPack- Mexico as well the Fispal show in Brazil.
To help increase interest and awareness of our product line and the different solutions that they provide, we will have 2 running spirals at the ExpoPack show – the popular 1200-300 as well as the new Narrow Trak spiral which has a chain width of only 150mm.
The Narrow trak line has also been augmented to include a chain width of 230mm as well as a larger diameter of 1700mm to allow for the transportation of tall products at the ideal angle of inclination.
As the Ryson spirals continue to diversify into the Mexican and Latin American markets, we focus on providing solutions in Food/Beverage, Packaging, Personal Care, and Distribution.
The ExpoPack show in Mexico will be held at the new venue of Expo Bancomer in Santa Fe (Mexico City) at booth # 1320 on 17-20 of May.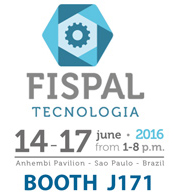 The FISPAL show in Sao Paulo will take place the 14-17 of June and will be held at the Expo Center in Anhembi and our booth will be J-171
We invite you visit us at either show. If you wish to set a meeting date or personal demonstration, please contact Jerry Piggott, our Latin American Sales Manager.