Ryson Will Be At Pack Expo 2012 This Month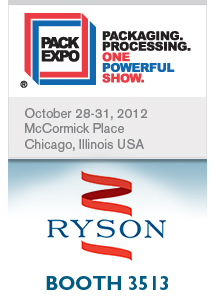 PACK EXPO International 2012 is the one and only event with the most innovative technologies and solutions that drive your business. The largest, most comprehensive processing and packaging event in the world. Ryson is looking forward to exhibiting thier spirals again this year. We will be running a Unit load spiral conveyor and our new high capacity mass flow spiral conveyor that can move up to 2000 bottles cans or jars per minute. We will also be showcasing a high capacity spiral conveyor with our new and improved slat design and our special induction conveyor for intermediate spiral entry both for the up and down direction.
We invite you to stop by our booth for a demonstration. If you are a systems integrator, we would love to show you some new features and we encourage you to bring your customers along. Ryson will be in booth N-5313. Click here for more information on our booth at Pack Expo. Let us know if you would like us to schedule a private demonstration for you or your customer.