The new Ryson Wide Trak Spiral Conveyor is in response to our customers' need to handle bigger loads and reach higher elevations They can handle double the weight capacity of our regular Spirals and are ideal for warehousing and order picking operations.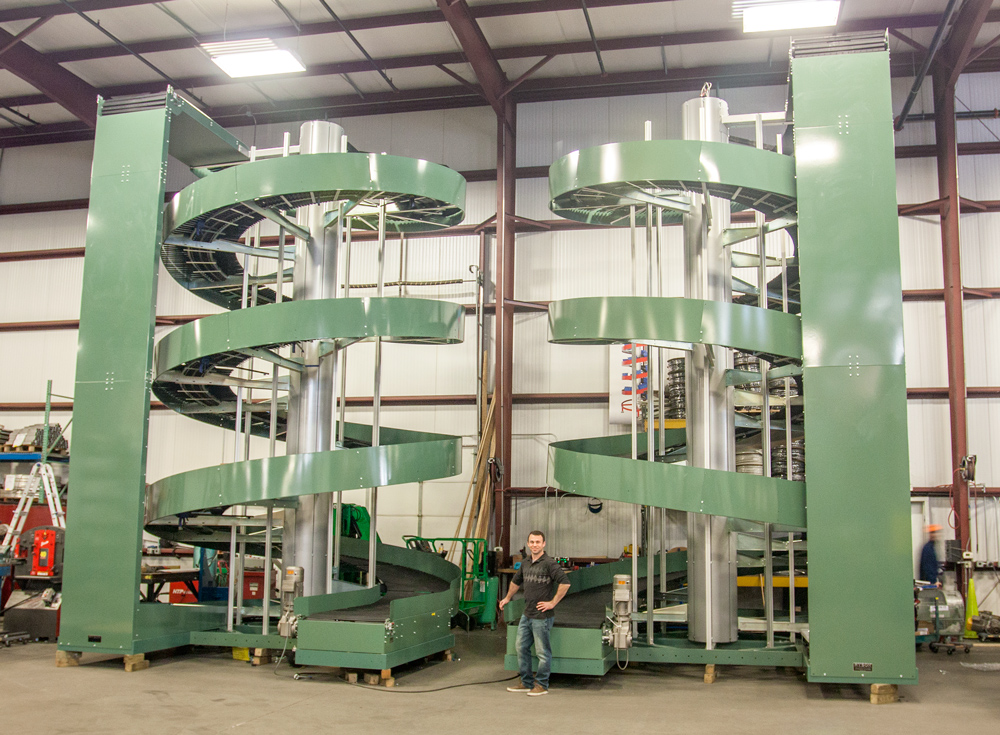 This week, we continue our string of the new Wide Trak Spiral Conveyor, with our model 3000-900's. The overlapping slat width of 36" is just what the doctor ordered for our Integrator partner, Bastian Solutions.
Their customer, a large sporting goods retailer, needed to handle jumbo size cartons and called on us to employ 4 of these spirals in an expansion of their Distribution Center. These units have an elevation change of 21 feet and will run at 110 FPM.
Once assembled and tested in our Virginia facility, the spirals are partially dis-assembled and shipped to the project site, where our service technicians assist the Bastian Installation crew in the reassembly and start-up of these units.
Since getting into the "large spiral" business, we have come to the realization that there's a great need for those warehouse/distribution applications to vertically transport larger and heavier cartons. This has been historically done with long stretches of incline or decline belt conveyors or with spirals made of belt curves, which have product size restrictions and we get a lot of negative feedback regarding belt replacement and general maintenance headaches.
For more information on the Ryson Wide Trak Spiral Conveyor, visit www.ryson.com. You can also download the spec sheet, or read application stories on our weekly blog.