This month, Canadian Packaging Magazine did a feature story on a new Unilever Ice Cream Plant, combining cutting-edge production and packaging technology with uncompromising food safety requirements. Ryson Spirals were used.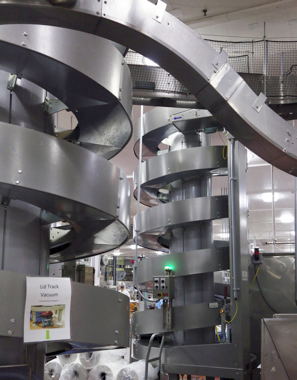 The article is highlighting Unilever's focus on food safety and their commitment to being an environmentally responsible operation.
This new facility has four Ryson Spiral Conveyors conveying several carton sizes and shrink wrapped ice cream tubs from floor level up to a 12 foot elevation where the products are conveyed to the end-of-line packaging operation.
Ryson Spirals need less floor space than conventional incline conveyors and are faster and more reliable than any elevator or lift. As the understanding of the benefits of the Ryson Vertical Conveying solutions grows, we see increased sales with our neighbors to the North and the South.
Our integrator partner was Descon Conveyor Systems. Read the full story here. You can also read more packaging and bottling stories on our weekly news blog.