The Ryson High Capacity Spirals are in response to our customers need to go higher and handle more weight. They are perfect for Multi-Level Pick Modules.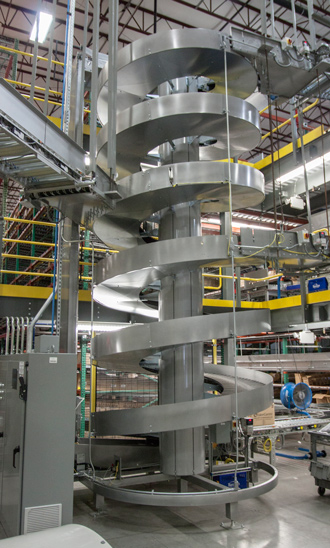 They can handle double the weight capacity of our regular spirals at speeds up to 200 FPM.
Multiple Entry and Exit Spirals allow loads to enter or exit the High Capacity Spirals at intermediate elevations. New special induction and divert conveyors have individually adjustable conveying surfaces to match the spiral pitch, assuring a smooth and reliable operation.
The loads can enter or exit the spirals in the up or down rotation, and offers great space-savings in multi-tiered order picking systems or multi-level production operations.
An increasing number of systems take advantage of these new features. Ryson recently delivered  High Capacity Spirals to a distribution center in Pennsylvania with a multi level order picking system. Featuring both multiple entry and exit capabilities. View the video below.
The down spirals induct loads at three intermediate elevations and the up spirals divert out at two different elevations. Our integrator partner on this project is Bastian Solutions. For more information about Ryson's Vertical Conveying Solutions, please visit our website at www.ryson.com.