Ryson has a long history of manufacturing Spirals for Mexico and all of Latin America. JUMEX, a popular producer of juice and nectar in Mexico is one a big repeat customer with a very impressive installation in Mexico City.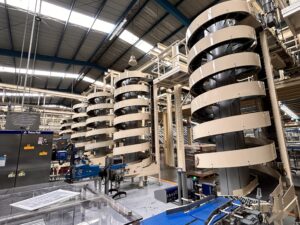 In the heart of a bustling JUMEX facility in Mexico City, a quiet revolution has been taking place for years, thanks to our innovative spiral conveyors. These conveyors, known for their exceptional reliability and robustness, have been integral to the facility's operations, streamlining processes and boosting efficiency… And they keep adding Spirals.
The Unit Load Spiral
The spirals at JUMEX that are being used in these pictures are Unit Load or Case Spirals. They offer reliable vertical transportation of boxes, carton wrapped items, shrink-wrapped bottles or cans and much more. One of the standout features of Ryson's spiral conveyors is their space-saving modular design. These machines optimize floor space without compromising on throughput. At the JUMEX facility, this has translated to a more streamlined layout, enabling better organization and an increase in overall flexibility and productivity.
Ryson & Apollo Mexico
Ryson is as a proud member of the Royal Apollo Group for over two years now. Our parent company also opened a new office in Mexico "Apollo VTS Mexico" to better serve the local market and to continue Ryson's work in Latin America. So now owners of Ryson equipment in Latin America have a direct contact.
Our commitment to our customers is evident through our comprehensive service offerings. From installation to maintenance, our team of experts ensures that the spiral conveyors operate seamlessly throughout their lifecycle. This dedication minimizes downtime and allows the facility to focus on what it does best: being productive. In this instance, our service engineer did an analysis of the equipment at JUMEX in order to assess the installation and to offer a more in depth inspection. This inspection is 4-6 hours long and helps detect problems before they occur and increase the longevity of the machines.
Over 10 years old and still going strong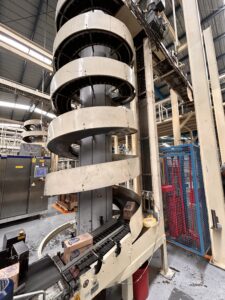 What truly sets our spiral conveyors apart is their longevity. Year after year, these conveyors have proved their mettle by consistently performing at the JUMEX facility. Some of them are over 10 years old. The robustness of the machinery is a testament to Ryson's commitment to delivering solutions that stand the test of time. The spiral conveyors have weathered the demands of a busy production environment, showcasing the engineering excellence behind their design.
With our reliability, space-saving design and unwavering commitment to customer service, we have influenced material handling and set new standards for efficiency and durability in the industry.
You can read more  Food and Beverage applications in our weekly news blog.