Ryson is committed to a continuous product development program, with a focus on sustainability and reducing the cost of ownership.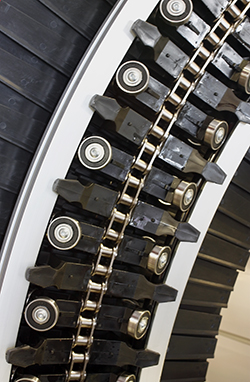 The proprietary rolling friction design of the slat chain makes Ryson Spiral Conveyors extremely efficient. As a result, our spirals only need one drive motor, which saves power and the cost of  integration. Vertical spiral conveyors take a fraction of the floorspace and drive motors required by traditional incline conveyors.
Ryson vertical conveyors need very little maintenance and all bearings are sealed for life and do not need additional lubrication. The rolling friction also greatly reduces the wear and tear of moving parts, which aids in long-term durability. Water lubricants are not required on our Mass Flow Spirals for proper product flow. Ryson manufactures solid heavy-duty machines that are designed for long life. All Ryson products are modular in design and are easily repurposed in the field to meet emerging needs.
Download more information on the benefits of Ryson Spiral Conveyors or read another story illustrating how spiral conveyors are more efficient than traditional incline conveyors.