Ryson manufactures equipment for all of North and Latin America. These Spirals are shipping to a customer in Argentina. They will spend a couple of weeks in a shipping container on the Atlantic before arriving at their destination.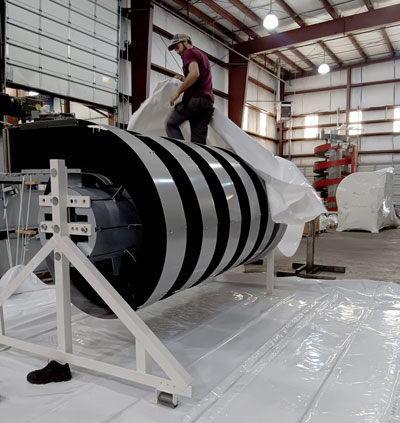 For this type of shipment via water the spirals are wrapped with a special plastic foil. This helps mitigate any unnecessary moisture damage or rust. This process takes about one day at the Ryson factory. They are then carefully loaded in the shipping container.
Since many of our Spiral Models fit into a shipping container, they are sent fully assembled and are ready for implementation as soon as they are delivered.
The Ryson Case Spiral
This job includes two Unit Load Spiral Conveyors (1200-300) for a food factory in Argentina through our integrator partner Sidel. Ryson's Spiral Conveyors are renowned for their efficiency, versatility, and space-saving designs. Built to elevate productivity and optimize space utilization, they have found applications in various industries worldwide. Our Case Spirals can also be used for the transportation of bags, shrink-wrapped items, pouches, trays and much more.
Ryson in Latin America
All Spirals bound for Latin America are built and shipped from our facility in Yorktown, VA. Also, with our parent company's new office in Mexico "Apollo VTS Mexico", our Latin American customers have the added benefit of a local sales, service and support.