Ryson Spiral Model Chart Available: Ryson has a big variety of spiral conveyor models available. With over 20 years of experience in the vertical conveying industry, our product line has grown to handle many applications.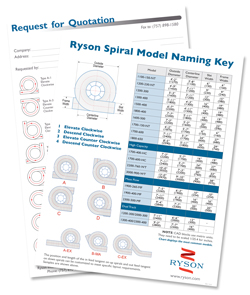 We have developed a Ryson Spiral Model Chart that accompanies our RFQ form to help make the model differences a little more user friendly.  This can be used as a guideline and for preliminary dimensions in your layout.
With our experience however, we may find that a specific model may work better for specific applications. So when you fill out our RFQ form as completely as possible, our sales team can calculate all of the variables and respond with the best solution.
Download our Request for Quotation and Spiral Sizing Chart if you have an application you would like to have specked and quoted. Our sales team strives to reply within 24 hours of an inquiry. You can also fill out this form on the Ryson website.