Ryson Spiral Conveyors Save Space and Increase Throughput: New advances in Ryson Spiral Conveyor technology offer significant productivity and operational benefits in a wide number of industries and applications where space for material handling systems may be limited — manufacturing, warehouse operations, packaging, bottling, and order fulfillment. 
Ryson International developed its next generation spiral conveyors based on extensive input from end users and from research and development of promising technologies. This  new generation emphasizes simplicity, modularity, quality, and reliability.  These systems require minimal maintenance and are capable of long-term 24 hours a day operation.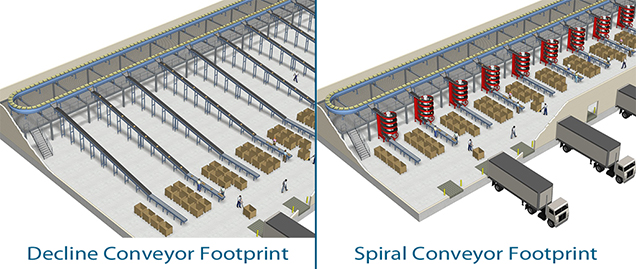 Saving Space Spiral conveyors are an attractive alternative to traditional incline conveyors because of their small footprint. This small space requirement means that these conveyors can be pre-assembled, pre-tested, and shipped in one piece to the end user. This makes installation and startup faster and less expensive.
Increased throughput The pressure to increase throughput is being felt by most companies today. Conventional elevators and lifts simply cannot keep up with this demand. Ryson spiral conveyors facilitate continuous product flow at speeds up to 200 feet per minute and are more reliable than any elevator or lift.
Additional Benefits Only one drive motor is needed, creating not only savings for system integration, but also conserving energy. Proprietary low-friction chain-slat arrangement assures low maintenance and long life, with the added benefit of lower noise levels — below 70 DB
 To read a more detailed Whitepaper detailing the Advantages of Spiral Conveyor Technology, you can
download the PDF here
.