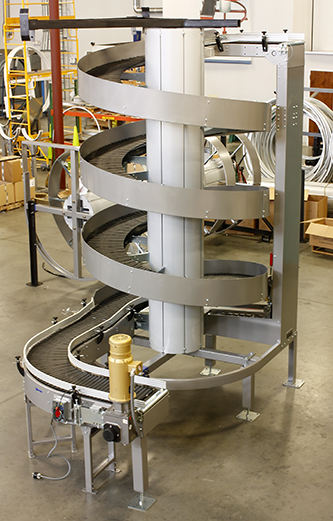 Configuration options of Ryson Spiral's in and out-feed tangents can provide great layout flexibility.
The Ryson Vertical Spiral Conveyor modular design allows the position and length of the in-feed tangent on up spirals and the out-feed tangent on down spirals to meet custom layout requirements. This provides great layout felxibility in tight spaces and accomodate conveyor line centerline offsets.
Extending the tangents can also eliminate short conveyor sections between the spiral and other system components. The extended tangent is powered by the spiral drive, and saves in the cost of integration and controls. Ryson's proprietary design allows the extension to operate in any direction from the spiral.
This week Ryson is shipping a down spiral to a major beverage company with a curved extended out-feed which efficiently accommodates a centerline offset in a reconfigured packaging line. The integrator on this project is Foth Production Solutions.

You can download a Ryson Size and Model Chart on www.ryson.com and you can specify any unique tangent requirements.