PUMA, a renowned sportswear brand, recently partnered with one of our integrators Knapp to streamline their production processes. Markedly, the star of the show is the Multiple Infeed Spiral Conveyor model 1700-400, standing tall at over 30 ft high. It is designed to transport plastic boxes with precision and efficiency.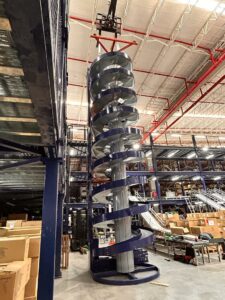 The PUMA Factory Transformation
This state-of-the-art conveyor system excels in efficiently transporting plastic crates, a crucial task in the manufacturing process. The height of the exit point, over 30 feet, showcases the conveyor's impressive capabilities, allowing for optimized use of available space. Therefore it's enabling PUMA to make the most of their manufacturing facility.
Why Ryson's Multiple-Infeed Spiral Conveyors?
This Conveyor has two different infeeds/exits but the possibilities with this model are endless. Multi-level Spirals can be configured to allow loads to enter or exit at several intermediate elevations. As a result it is the ideal space-saving solution for multi-tiered product flow – like pick modules.
Space Optimization: In the increasingly crowded manufacturing landscape, maximizing floor space is paramount. Ryson's spiral conveyor systems do just that by utilizing vertical space, reducing the need for extensive horizontal conveyors.
Precision and Speed: Precision and speed are critical in today's fast-paced manufacturing processes. The Multiple Infeed Spiral Conveyor will ensure the seamless flow of plastic boxes, minimizing disruptions and enhancing production efficiency.
Reliability: Ryson is renowned for the durability and longevity of our conveyor systems. With minimal maintenance requirements, this system is designed to stand the test of time, providing PUMA with a dependable solution.
Environmental Consciousness: We are also committed to sustainability. Our conveyors are designed to minimize energy consumption, reducing the factory's carbon footprint.
With the establishment of the Apollo VTS Mexico office, We have taken a dedicated step towards serving the Latin American market. This strategic move therefore enables us to bring our Ryson equipment closer to customers in the region. Additionally we can now also offer service and support from our local team in Mexico.
The Latin American branch of the Royal Apollo Group, our parent company, is expanding more and more. Presently, Ryson and Apollo VTS Mexico are stepping up their game to meet the rising demand for innovative material handling solutions in the region.
Continuing to Offer Innovative Solutions
Finally, our Multiple Infeed Spiral Conveyor installation at the PUMA factory in Chile is hopefully only the beginning of a long partnership in material handling. As we continue to make our mark in Latin America, companies like PUMA can look forward to improved efficiency, space utilization, and a more sustainable manufacturing future.