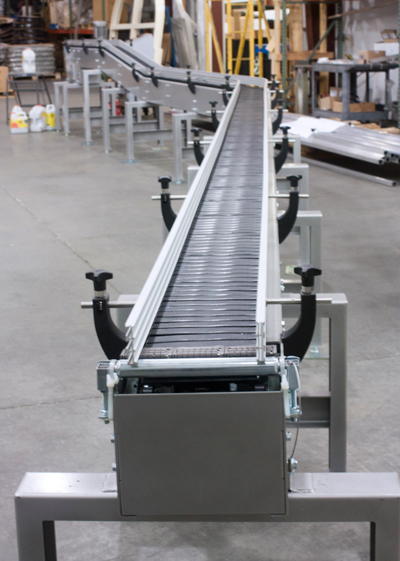 This week Ryson is shipping a slat conveyor to a major pet care manufacturer.  For those that aren't familiar with the Ryson Slat Conveyor, it's basically the proprietary chain-slat arrangement used in our spiral conveyor design running horizontally.
This conveyor will transport plastic containers of kitty litter between processes and makes a small elevation change.The customer uses our conveyor because the dust in their plant is very abrasive, so any type of conveyors that rely on "dragging friction" wear out very quickly. Because our chain slat design is only rolling friction, there is no rapid wear on any of our components, resulting in long life and a lower cost of ownership for the end user.
Only one drive is required for each 250 feet of conveyor, which minimizes the number of transition points required. This also significantly reduces the cost of controls and system integration. The Ryson slat conveyors are available in widths of 8", 12", 16", 20" and 24". For more information, visit www.ryson.com. Our integrator partner on this project is Midwest Industrial Concepts.