This week we had an emergency service video call. We were able to resolve the issue within 4 hours, and no one had to travel. In this age of COVID, many things have changed, but service must go on. Ryson Spirals NEED to keep running.
As with many aspects of the "new" normal, many things are done via video conferencing which used to be done in person. In fielding the service call it was determined that the customers maintenance staff had the ability to video chat. Jeffery Montgomery – senior service technician at Ryson was able to video chat, diagnose the issue, and talk the maintenance staff though the procedure to fix it.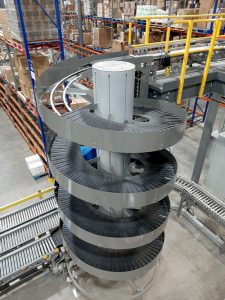 This was the following note of gratitude following the successful completion of the repair: " From TEAM Modern leadership I want to thank you for your prompt and effective help yesterday in a very challenging time for us. You gentlemen know what a 'down' conveyor can mean to an organization. Getting us back up and running yesterday was critical to the success of our business this week and to several hundred customers today. Our spiral worked with no issues last night and we thank you for your help in getting it operational for us yesterday. TEAMWORK is one of our company 5 Core Values and your organization displayed that with us for 4+ productive but un-panned hours for all of us yesterday." – Willie Wilson, Business Service Manager, Team Modern
Customer Service and Spiral Support have always been a top Priority with Ryson. We constantly strive to create the best machines for vertical conveying and provide the best service to support them. For more information on Ryson's dedication to service, visit our Parts and Service page, or read more stories about our Service Team in our weekly blog.