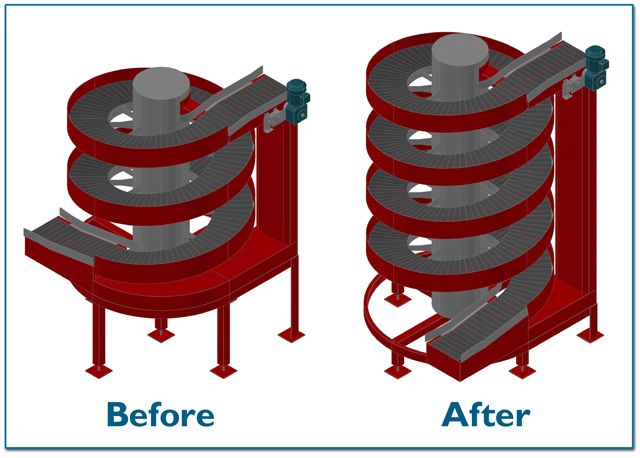 Ryson Repurposing: This week we'll be shipping modification parts to a beverage plant in Illinois to reconfigure an existing Ryson Spiral Conveyor.
The original spiral was purchased in 2010 for a line that is no longer in use. Now, four years later they've asked us to reconfigure the spiral to replace an incline belt conveyor on another line, to save space. The field-transformation will take it from it's current configuration with a 6 foot elevation change to a different configuration with an elevation change just over 9 feet.
The Ryson Spiral modular design allows customers to easily repurpose existing spirals at a fraction of the cost of a new spiral. No other spiral conveyor on the market can be field-reconfigured in this way. This demonstrates the versatility and unique benefits of the Ryson Spiral technology and how we help reduce the customers' cost of ownership.
Once the parts arrive on site, one of our service technicians will travel to the site and can in most cases – with the help of the plant maintenance department – complete the transformation in a day. Read more stories on how Ryson has repurposed existing spiral conveyors.