Ryson is the leading supplier of vertical conveying solutions to the food and beverage industry. A recent article in the Beverage Industry Magazine talked about the trends of SKU proliferation and the need for conveyors to run faster and be more flexible.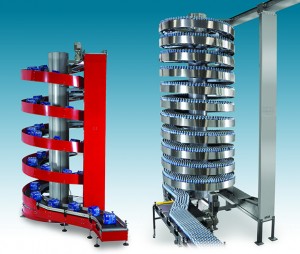 Ryson provides solutions for this trend. Ryson Unit Load Spiral Conveyors can
handle a great a variety of package types and sizes at speeds in excess of 200
feet per minute without the need for any change parts. The Ryson Mass Flow
Spiral Conveyors can convey full and empty bottles or cans in a single file or
In a continuous mass flow at a rate of up to 2000 units per minute.
Our Multiple Entry and Exit Spirals allow products to enter or exit at intermediate
elevations which provides space savings and operating flexibility in multi floor
production or order picking  operations.
Click here to read the full Beverage Industry Magazine story. You can also find more stories about Ryson Spirals in the Beverage Market on our weekly news blog.