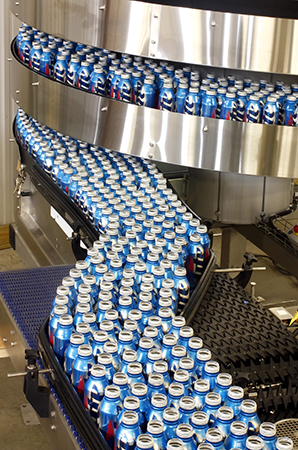 An optional Video Factory Acceptance Test (FAT) is available to all our customers. Ryson always runs and tests each spiral before shipping from our Virginia manufacturing plant, but customers often want assurance that their products are handled as required on our spirals before leaving our factory.  Since travel to observe this isn't always a viable option, Ryson is happy to videotape and photograph the test and post the video securely via the internet. Many of our customers take advantage of this time and money saving resource.
This week  a 1900-400 High Capacity Mass Flow Spiral Conveyor is shipping out to MillerCoors in Golden Colorado. The Spiral will lowerate their new aluminum bottles from de-palletizing to the filler. The customer was concerned about the stability and handling of the product since the bottles are tall and lightweight. They shipped us a skid-full so we could test the flow and stability of the product before final approval and shipping.
View a portion of the video we produced for the customer and Sidel, the integrator on this project. If you have any question about how Ryson could set up a video test for you, please give us a call at 757-898-1350 or visit www.ryson.com.