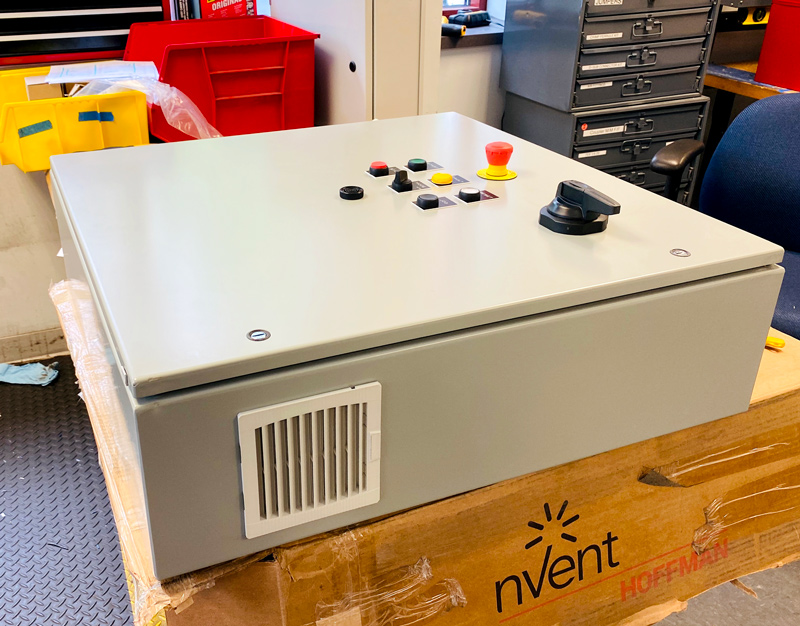 Ryson offers optional pre-wiring and controls with their spirals. It does not come standard because most spirals are normally integrated in to the overall control system provided by the integrator.
In this week's story we'd like to highlight a fast-turnaround emergency service call involving pre-wiring and controls.
Thursday morning the customer called to ask about a full controls panel when they realized that controls had not been ordered with their spiral.
They needed their production line  to be up and running on the following Wednesday. The Ryson Service Team sent them a copy of the schematics from our standard full control package. They wanted to find a local vendor to fabricate the controls, but could not find anyone that could complete it within their time constrains.
The Ryson Service Team then went into action to meet the tight deadline.
The rush order was completed by Monday morning. Our Parts Manager had pre-arranged door-to-door delivery service through Superior Freight. The completed control panel left Ryson and was received by the customer 25 hours later. The final schematic and hookup description was sent to the customer and they started field wiring on the spiral (motor, brake, sensors).
The panel was delivered to the site Tuesday afternoon and hooked up to the wiring done by the client on the spiral. System was tested and ready for startup on Wednesday morning.
Thanks to the responsiveness of the Ryson Service Team, the customer had what they needed by their deadline. This is a testament to Ryson's dedication to customer service and satisfaction. Read more information about Ryson's Parts and Service Departments