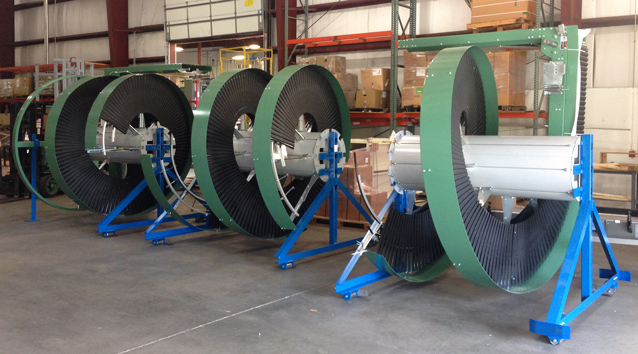 Ryson Modular Design: This week we are shipping a 21 foot tall High Capacity Spiral Conveyor with an intermediate induction conveyor to a large automotive parts supplier in Canada.
This type of spiral normally ships in one piece. In this case however, this spiral shipped in three pieces to facilitate installation in a very tight and crowded space. The challenge was to install this spiral as part of a system expansion without disrupting the ongoing operation. The spiral was built and shop tested in one piece and broken down into three pieces prior to shipping, thanks to the unique Ryson modular design.
The new addition will expand the customer's order picking capacity where orders are picked on the floor and mezzanine level. A Ryson induction conveyor allows for intermediate spiral entry at the 13 ft. mezzanine level. Parts from both picking levels are spiraled up to a takeaway conveyor at the 21 ft. level and merges with the existing system.
The integrator on this project was Conveyor Dugas, Inc. For more information on the Ryson High Capacity Spiral conveyor, please visit www.ryson.com. You can also read more stories about Ryson's Modular Design on our weekly blog.