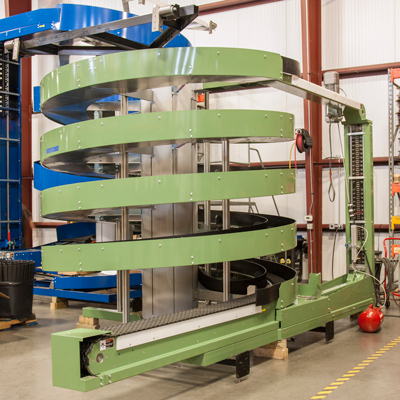 Our Mass Flow Spiral business is continuing to grow as more and more glass makers and glass users recognize the benefits of the Ryson Spiral Conveyor. With that growth, comes the requirements to handle a broader range of products and we are responding with more diversity through our growing product line.
Our Mass Flow Conveyors convey full and empty bottles, cans, jars and similar containers in single file or in mass at a rate of up to 2,000 units per minute.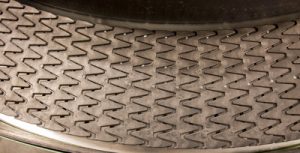 They are equipped with a proprietary nesting slat design, providing a flat reliable conveying surface. The Mass Flow Spirals are equipped with extended in and outfeed tangents to facilitate smooth side transfer to and from adjoining conveyors without product tipping.
This week we are shipping the new model 2300-260 to a large glass manufacturer designed to handle very tall empty wine bottles, but requiring a low angle of incline to prevent the bottles from tipping. This spiral will convey 13″ tall empty wine bottles in mass at a rate of 540 bottles per minute, and empty reverse-taper glass bottles in single file at a rate of 210 bottles per minute.
Our Integrator Partner for this project is MSK Covertech, Inc. For more information on the Ryson Mass Flow Spiral Conveyors, please visit www.ryson.com, or download our updated spec sheet.