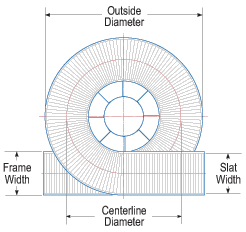 Every spiral is made to order for your specific needs, so every spiral has it's own cost. That's in part why we have a web-based RFQ system in place. The interactive form walks you through the specific requirements of your application, and gathers hight, speed, weight, direction and other information critical to an accurate quote.
We are committed to getting back to you quickly, normally within 24 hours. We know that plans change last minute, and we are committed to respond to your request with accurate information without delay.
Quality and service comes first at Ryson.
Our products are crafted with care in our modern manufacturing plant in Yorktown, Virginia . Our professional staff is always available to assist on how to best apply, integrate, install and service our products.  Many of our customers visit our plant for hands- on training and to witness their equipment being factory tested.