Ryson makes customer service a top priority. So we are incredibly proud to announce that our Service Manager Doug Glass recently became a PMMI Certified Trainer. This raises our service bar even higher and allows us to properly train your staff about Ryson vertical conveying products .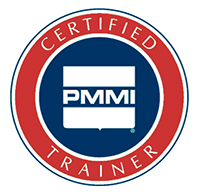 We know that proper integration and preventative maintenance greatly prolongs the life of our Spiral Conveyors and substantially reduces the cost of ownership. Click here to download the Ryson Recommended Preventative Maintenance Program PDF.
The PMMI Certified Trainer Program teaches the skills needed to provide quality training to improve equipment reliability, employee safety and line efficiency. This proven train-the-trainer program is designed for both internal trainers at end user companies as well as service technicians and trainers at PMMI member companies.Enhancing quality, improving safety, reducing conversion times and boosting the bottom line are critical for companies to compete – and win – in the fast-changing global marketplace. PMMI Certified Trainers are equipped with the tools and skills needed to increase productivity and efficiency in your operations through a highly interactive and performance-based training curriculum that emphasizes practical learning and problem-solving.