Ryson is preparing for ProMat 2011

Ryson will exhibit their new High Capacity Spiral Conveyor with multiple entry capabilities in booth # 1523 during ProMat 2011. It will be held at McCormick Place, Chicago, Illinois March 21 – 24.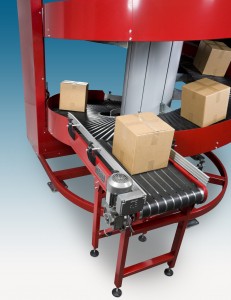 The Ryson High Capacity Spirals handle double the capacity of our standard spiral model. The load capacity is 75 lbs. per linear foot of conveyor with speeds up to 200 FPM. The total weight capacity in the vertical spiral at any one time is 3600 lbs. Only one drive motor is required, resulting in substantial savings in energy, controls and system integration. The  high capacity spiral lifts also ship in one peace, which drastically reduce the time and cost of installation. The High Capacity Spiral Conveyors can also be configured to allow loads to enter the spirals from several different elevations. A new high speed induction conveyor provides controlled spiral entry.
Download Ryson High Capacity Spec Sheet | Download Ryson Multiple Entry Spec Sheet
Ryson is currently busy preparing for the show and we look forward to showcasing our vertical conveying solutions. With the economy turning for the better, we are anticipating to meet many customers looking for new solutions. The show also gives Ryson the opportunity to stay in touch with our integrators attending the show. Click here to find out more information about ProMat 2011 and Ryson Booth 1523