Hands-on Training: Proper integration and maintenance assure long life of Ryson Spirals. That is why we welcome and encourage our Systems Integrators to send their installation team leaders to our plant for intensive training on the installation, integration and maintenance of our spiral conveyors. Preventative maintenance and integration tips that can save time and money in the future are presented. Our professional service team walks visitors through critical points of our spiral machines. We show the basics of preventative maintenance, how to shorten the chain and replace broken or worn parts. Integration tips like speed matching and ideal gap between loads are also covered.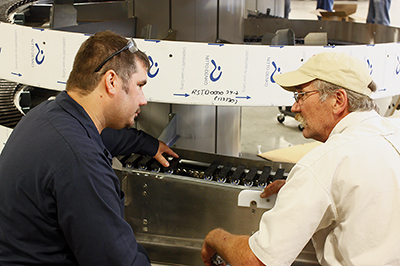 This week, a member of the Storcan Conveyor and Packaging Systems team (Montreal, Canada), gets briefed on the proper rigging and installation of a mass flow spiral that we will be shipping to their customer, a brewery that will use the spiral to transport full 12 oz. glass bottles at 800 per minute through an elevation change of 15 feet from the client's first to second floor. This project also includes one of our new high capacity case handling spirals to lower the full cases back to the first floor for palletizing.
Our service manager is a PMMI certified trainer and feels the more familiar everyone is with the Ryson Spiral Conveyors — and how to best keep them running, the better it is for everyone. That's why we feel this hands-on training is a worthwhile investment in time. It  reinforces our committment to quality and service.
If you would like to visit our plant, get the tour and familiarize yourself with the Vertical Conveying Spirals, we welcome you. Call us at 757-898-1530 for more information or to set up a time.