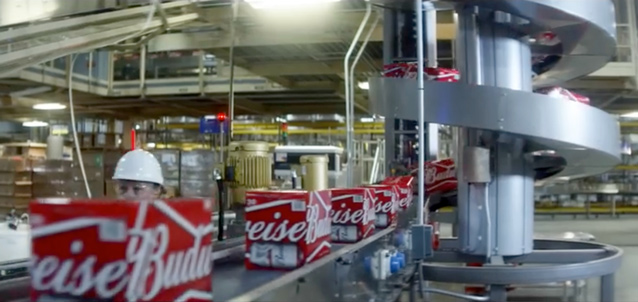 This Past weekend the NFL Super Bowl aired, and as tradition has it, it's also a crazy television commercial kick-off.  Much to our surprise, Budweiser aired a commercial that showed off a Ryson Case Spirals from their Cartersville Georgia Plant.
We know that the commercial was not about spiral conveyors, but the fact is that Ryson has a very strong presence in the beverage industry, from the big brand names to small emerging craft brewers. Our
Mass Flow Spirals
convey full or empty bottles or cans up or down in a single file or in a continuous mass flow at a rate up to 2000 units per minute. The Mass Flow Spirals are typically used to convey products from a bulk de-palletizer to the filler and/or to the packaging lines. The
Case Spirals
like the one in the commercial covey cases from packaging to palletizing or storage.
Our customers prefer Ryson Spirals because they are very reliable and have a very low cost of ownership. The Ryson Vertical conveying concept allows a seamless production line between elevations with a very small footprint. If you would like more information about the Ryson Spiral conveyors, visit
www.ryson.com
.
Watch the full commercial below.