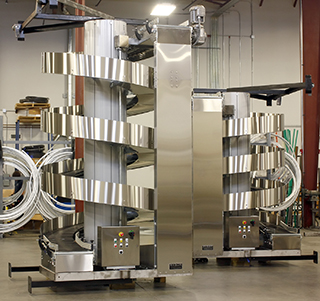 The Ryson Stainless Steel Hybrid Washdown Spiral is a perfect fit for food and beverage packaging applications.
In addition to our standard powder coated spiral conveyors, Ryson manufactures stainless steel and stainless steel washdown spirals suitable for industries like food and beverage packaging. Ryson also has a Stainless Steel hybrid available, which combines elements of both. The Ryson Hybrid Stainless Steel Spiral Conveyor combines the flexibility and price of our standard spiral, and the corrosion resistant properties of our stainless washdown unit.
The Hybrid unit is great for washdown areas where harsh chemicals are not used. Our standard aluminum painted center tube is used instead of stainless steel, which reduces premium materials and allows for simpler future reconfiguration of the spiral. As a result, this unit is less expensive than our all-stainless steel model.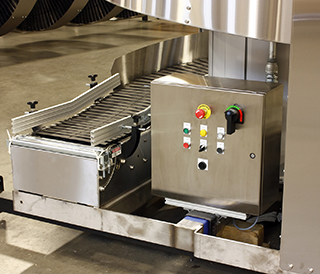 Ryson can also pre-wire your spirals – saving on field-wiring costs and reducing implementation time at the project site. Here's a photo on our manufacturing floor of some Hybrid washdown spirals with washdown (Nema 4X) control panel and pre-wiring.
For more information about options for the Ryson Spiral Conveyors, visit www.ryson.com. You can download information on our pre-wiring options here.