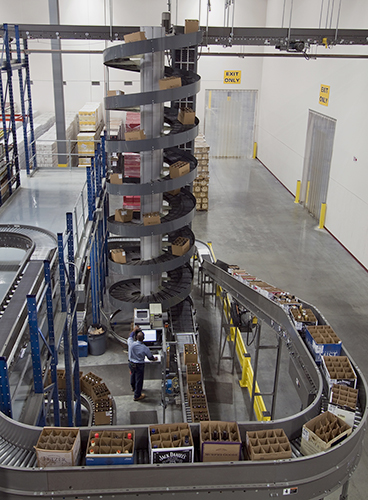 In the summer of 2009, we partnered with our Systems Integrator, W & H Systems of Carlstadt, New Jersey, to implement an "early out" system with our High Capacity spiral conveyors.
W & H's design at Premier Beverage's new 550,000 square foot distribution center  in Tampa, Florida utilizes the spiral as an "early-out" incline, transporting completed case picks of wine and spirits from the first level to a sorter on the third level.
The spiral adds to overall picking efficiencies by routing completed orders from the express pick zone directly to the sortation system, rather than transporting them through the second level.
The spiral saves the space and increased cost of turn-key implementation of the more common series of inclines and curves required to make the 25 foot elevation change required. The spiral is our model HC1700-600 and is 27 feet tall and runs at 150 feet per minute.
Congratulations to W & H Systems on another successful project, taking advantage of the latest spiral technology available from Ryson International.
Click here to watch a video clip of the operation.High Capacity Spiral at Distribution Center. You can also read more application stories about the Ryson High Capacity Spirals on our Blog.