Ryson High Capacity Spiral Conveyors are Saving Space In Some Big Ways
Ryson Spirals have always been about saving space. But with the High Capacity Spiral Conveyors, Ryson has taken vertical conveying — and space savings — to new heights.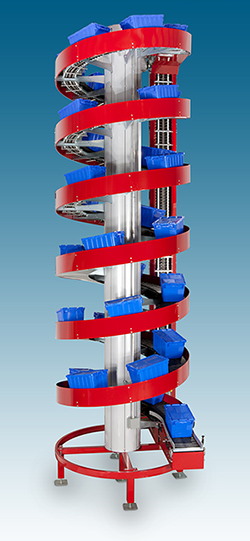 The two major benefits of the high capacity design are that they can handle more weight in the unit – up to 3600 lbs at a time. It is one of the only machines that can convey high-volume cases with elevation changes of more than 30 feet.
The Second major advantage of the Ryson High Capacity Spiral Conveyors is that it can be built with multiple inlets. This allows for example two production levels to use a single spiral. In warehousing this concept is taking off because a four or five tier pick module can be serviced by a single spiral conveyor — with a small footprint — resulting in exponential space savings and increased operating flexibility.
All Ryson Spiral Conveyors need less floor space than conventional incline conveyors and are faster and more reliable than any elevator or lift. The new spirals handle double the capacity of our regular spirals and ship in one piece which drastically reduce the time and cost of installation. The load capacity is 75 lbs. per linear foot of conveyor for speeds up to 200 FPM. An innovative modular design allows Ryson to customize with ease and modify in the field to accommodate emerging needs.
For more information on Ryson's Spiral Conveyors and other Vertical Conveying Solutions, visit www.ryson.com