The Ryson Mass Flow Spiral Conveyors have always been about vertically conveying product in mass. But with the addition of the High Capacity models, Ryson has taken vertical mass flow conveying to new heights.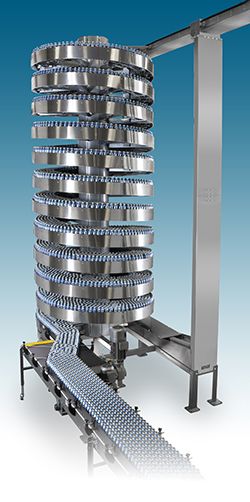 The Ryson High Capacity Mass Flow Spiral Conveyors are starting to change the way people think about packaging lines, particularly in the bottling industry.  With the added high volumes capacity and extended height ability, the Mass Flow Conveyors are able to handle the demands of even the most high performance bottling plants. They are often used to feed empty bottles to the bottling area as well as conveying filled bottles to the packaging lines.
With the Ryson Mass Flow Spirals, products are conveyed up or down in a continuous mass flow. Ryson Spirals have a small footprint and provide considerable space savings compared to conventional methods.
The Mass Flow Spirals are based on the already proven  Ryson Spiral technology and are designed to handle full and empty bottles, cans, jars and similar containers. Only one drive motor is needed, equating to substantial savings in controls and systems integration.
The Mass Flow Spirals are equipped with extended in and outfeed tangents to facilitate smooth side transfer to and from external conveyors. They can be delivered with 12", 16" or 20" wide slats with capacities of up to 2,000 bottles or cans per minute. They are also available in powder coated carbon steel, stainless steel and washdown versions.
For more information on Ryson's Spiral Conveyors and other Vertical Conveying Solutions, visit www.ryson.com