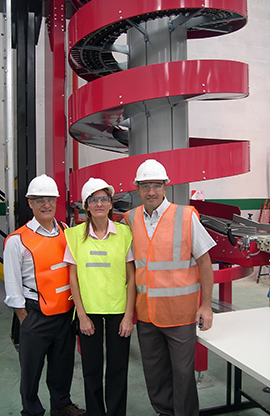 Ryson recently shipped a spiral conveyor to a major consumer products manufacturer in Buenos Aires Argentina. The spiral lift is part of new aerosol bottle filling and packaging line. The vertical spiral conveyor is located after the case packer and provides vertical transportation of the products to a mezzanine conveyor which feeds a high-level palletizer.
The System integrator on this project was Mori & Asociados, SRL. They are a new integrator with Ryson and specialize in conveyor systems. The spiral was shipped in one piece, pre-assembled and pre-tested, drastically reducing the time and cost of installation.
The South American market is starting to recognize the many benefits of Ryson's vertical conveying solutions and we are gearing up to service this growing market. Ryson spiral conveyors need less floor space than conventional conveyors and are faster and more reliable than any elevator or lift. All Ryson products are designed for low maintenance and long life and our proprietary modular construction makes future reconfiguring cost effective. That is a huge advantage in any competitive market.
Please visit our downloads page at www.ryson.com to download any of our product literature in English or Spanish.