Ryson Dual Track Spirals are an ideal solution for even more space savings because they allow 2 lanes of product flow within one spiral structure.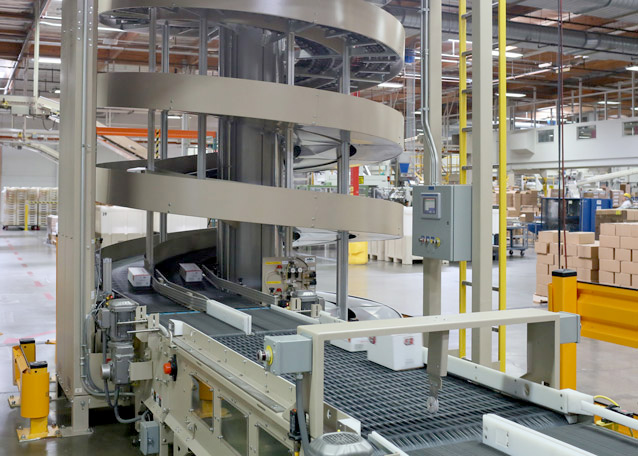 This week we shipped another one of our Dual Track Spirals for our Integrator partner, Garvey Corporation.
This 1300-400/2300-400 machine contains two independent lanes of 16" wide overlapping slats in a nine foot diameter footprint. In this case, Garvey will take the output of the case packer and split them into two lanes prior to the spiral. The high level palletizer requires a dual infeed (cases infeeding two-abreast). The spiral conveys various cases of cans of paint at 120 FPM at rates up to 75 cases per minute to a discharge height of 10'-6".
Two tracks operate independently within one spiral structure. Both tracks can go up or down and can optionally be reversible. Only one drive motor is required for each track, resulting in substantial savings in energy, controls and systems integration. If you would like more information on our dual track spirals, visit ryson.com, download the spec sheet, or read more application stories on our weekly blog.