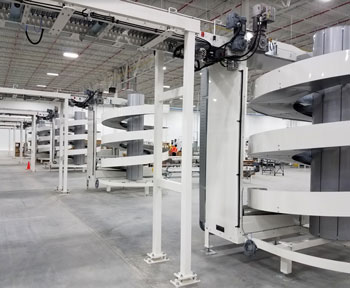 Ryson Dependability is something we strive for. Customer service and support go hand-in-hand with the quality and cost of ownership of our products. In many cases that turns into repeat customers.
Here's a shot from a project site where we recently installed ten new 1700-600 spirals. The end-user, a manufacturer of paperboard products had commissioned one of our spirals seven years ago in a packaging environment running seven days a week, 24 hours a day.
 That Ryson Dependability and low cost of ownership made it a simple decision to go with Ryson Spirals on their latest plant expansion. The spirals were installed at the end of ten production lines, conveying finished product up to overhead conveyors which flows to the palletizing area.
The spirals were pre-wired in our shop to special specifications called out by the customer. They shipped totally pre-assembled and coupled with the pre-wiring, reduced field implementation time once they arrived on site. The spirals feature a 24″ wide conveying surface and have an 8 foot elevation change.
For additional information on Ryson Case Spirals, visit www.ryson.com, download product information, or read more application stories on our weekly blog.