Last Week, our sales and service departments teamed up while in Dallas, TX and made several visits to our integrators offices and courtesy service visits to end user sites.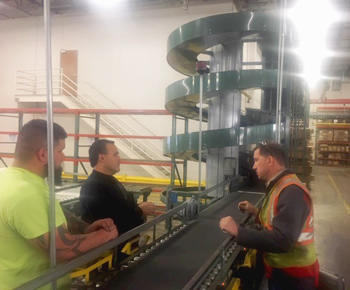 Given the opportunity, a service technician will make courtesy service visits to other Ryson installations in the area. Typically they check the condition of the machines and refresh the maintenance crew on preventative maintenance procedures.
The photo depicts such a courtesy visit to a major auto parts supplier in the area. The spiral was installed there back in 2013 and minimum maintenance had been performed on it. 
The integrator and end user were very positive about their Ryson Spiral. They also requested we take a look at it to see if there was anything that could be fine-tuned or adjusted. They were appreciative that we stopped by and helped address a few minor issues as well as giving their maintenance team a refresher on maintenance procedures. Our site visit took less than two hours and made a huge positive impact within the facility.
Ryson's dedication to customer service in our eyes is a win win. Given the opportunity, a small adjustment and some proper training, can prevent larger issues in the future. At Ryson we value our relationships with our integrators and end users and we thrive daily to build a stronger brand within the industry. Ryson is also dedicated to put all our service team through the rigorous PMMI Certified Trainer program.
For more information on Ryson's service department, visit www.ryson.com or read more service stories from our weekly blog.