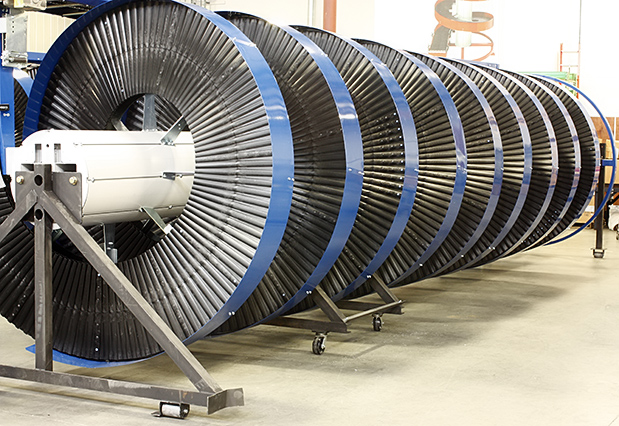 In the shop this week, we are preparing to ship the 10th and final spiral to a recently expanded sportswear distribution center in North Carolina. The order picking system includes our Model HC1700-600 High Capacity spiral incline conveyors to transport product picked from each of ten 4-level pick modules. The orders are picked from each level of the pick module and enter the spiral via our multi-infeed induction conveyors, where they are elevated to conveyors transporting the full cases to the sortation system.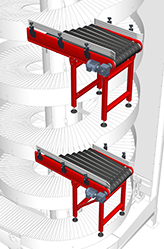 These spirals are the tallest single drive spirals we've built to date, standing at an elevation of 34 feet. Each was shipped completely assembled, ready for installation into the system. The implementation of the spiral conveyors allowed the system integrator to increase his overall storage and picking capacity, by saving valuable floor space over traditional incline conveyors.
The Multiple Entry Spirals allow loads to enter the spirals from several different elevations. The induction conveyor belts are individually adjustable to match the spiral pitch assuring smooth operation. Read more about the Ryson Multiple Entry Spirals in this PDF.