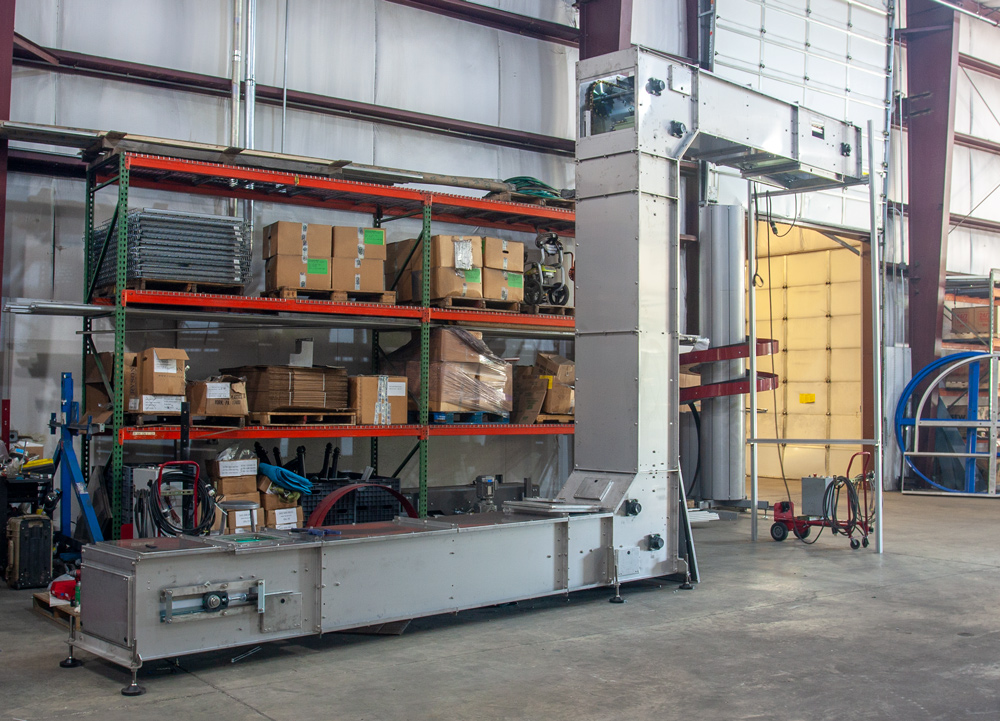 Ryson's Bucket Conveyors represent a unique and highly effective solution to your bulk material conveyor needs. They combine vertical and horizontal transportation of bulk materials in one integral unit.
International Biscuit Ltd – a member of Seaprod Group – is synonymous with Jamaican favorites such as Butterkist Cookies and Snackables. With markets in USA, Canada, Caribbean and the UK, IBL is quickly building a global reputation for quality and affordability. The IBL plant in Jamaica produces a wide assortment of snack food products. This application is specifically designed for an extruded cheese snacks application.
Bucket elevators are tied to the overall volume needing to be conveyed. It is a simple function of the targeted weight to move and the density of that product.  When the product density is very light (2 lb/ft3 in this case) any fluctuation in density greatly effects the volume being conveyed.
This Ryson model Z-200 stainless steel Bucket Conveyor will be running at 40 fpm. It is ideally suited to convey the 450 ft3/hr of extruded cheese snacks. It will rise to an elevation of 12ft with enough flexibility to adjust to those critical fluctuations in density.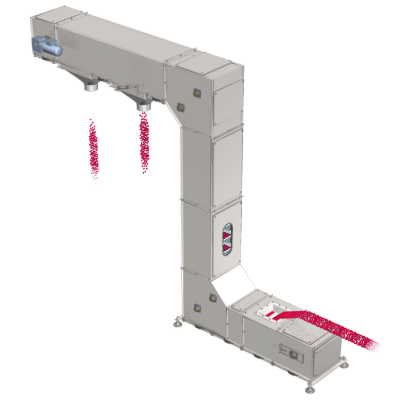 Our Bucket Elevators have earned a reputation for being the most durable vertical bucket conveyor in the marketplace. Their robust and forward-thinking design combines a number of features—from gentle handling and rugged construction to minimal maintenance and modular design—businesses have come to benefit from and deeply value.
Ryson continues to expand its influence and service their customers throughout North & South America as well as the Caribbean. For more information, visit our Ryson Bucket Elevators page, or read about some current application stories in our weekly blog. You can also view some more details about our Bucket Conveyor with this YouTube video.