As news of Ryson's new products gets out there, trade publications are picking up the stories of innovative installations that feature our vertical conveying solutions. Recently, Beverage World did a nice article about the cost savings of utilizing vertical space. Check it out.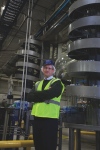 Beverage Industry also put out an informative article mentioning Ryson Spiral Conveyors entitled "Bottling conveyor solutions respond to industry demands" Check it out!
Canadian Packaging also put out a great article about a state-of -the-art water bottling plant —Nestlé Waters Canada — that utilized Ryson Spiral Conveyors as part of its production line. Check it out!