Bag Handling Spirals: The Ryson Unit Load Spiral Conveyors are most widely used for cases and totes, but they are also well suited for bags and pails.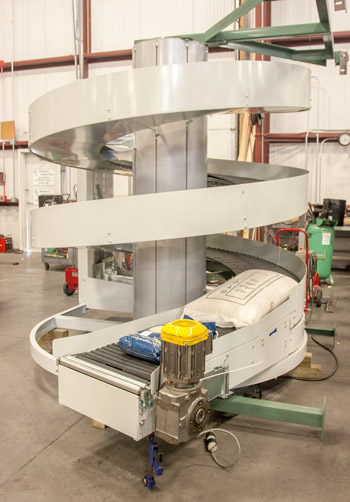 This week we're highlighting a spiral that will be handling bags of Rice, ranging in weight from 25 to 100 lbs.
This 1600-500 model spiral, sold by our integrator Premier Tech, declines bags from an elevation of 16' down to 10' to a high level palletizer at a rate of 30 bags per minute.This spiral will be mounted on our extended leg support structure and was configured in a way not to interfere with the pallet dispensing system.
Ryson has much experience with conveying bags and sacks – everything from whey powder to kitty litter. If you would like more information about the Ryson Unit Load Spirals, visit our website, or read more application stories on our weekly blog.