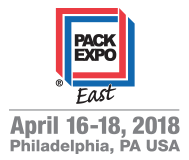 This week, Ryson is exhibiting at Pack Expo East in Philadelphia.
Pack Expo East is a regional packaging show where approximately 400 leading suppliers of advanced packaging equipment, automation, robotics and controls, materials, containers, printing and labeling technologies and other supply chain solutions exhibit.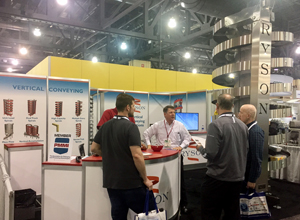 We are running our Narrow Trak Spiral Conveyor with our new micro-pitch conveyor – our newest accessory to the Narrow Trak family of spirals. This transfer unit minimizes the unpowered gap between the spiral and adjoining conveyors, allowing smaller and lighter products to be end transferred into and out of the spiral. When end transferring the slats can be equipped with friction inserts to provide more friction. This allows steeper incline/decline angles which yields greater elevation changes with the same number of turns.
Two booths down, our integrator partner Garvey displayed their latest version of the Garvey Infinity Loop that integrates two Ryson Mass Flow Spiral Conveyors.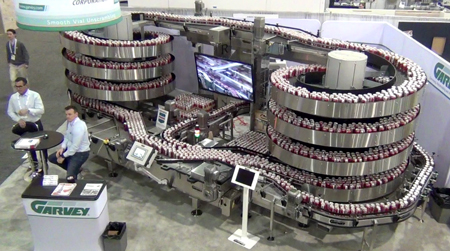 Joining forces with Ryson has allowed the Vertical Infinity to utilize two incredible technological achievements and create the most efficient accumulation machine Garvey has ever built. The Vertical Infinity furthers Garvey's mission to maximize the production of lines by keeping the constraint running when the non constraint machine's go down. Download the product spec sheet to read more about this incredible collaborative application.
For more information about the Ryson Narrow Trak Spirals, visit www.ryson.com, or read application stories on our weekly blog.