Ryson at Modex 2022. Live from Modex in Atlanta this week.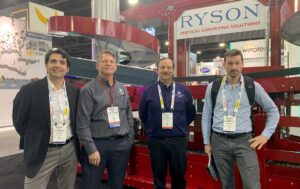 This was a great show for us, and it gave us the opportunity to show off our Spirals to the Warehousing and E-commerce markets.
Modex is an ideal trade show to reach out to our warehousing integration partners and end users. Also, the growing supply chain issues worldwide has really upped the energy level at this show.
The show was well attended and we met with new integrators and customers, and ones we have existing relationships with. We even met up with one of our premier Canadian Integrators, Storcan.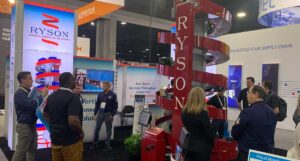 Ryson at Modex 2022 displayed our High Capacity demo loop, which highlights our induction and divert conveyors. This helps illustrate how our spirals can induct and divert out of a Spiral at intermediate elevations within a single Spiral. This makes an efficient and space saving vertical conveying solution for pick module applications.
The show in general was quite large and very well attended, and the Ryson Booth had both high volume and quality meetings.
For more information about our line of Vertical Conveying Solutions, visit ryson.com. You can also read more stories about our applications in the warehousing and e-commerce segment in our weekly blog.