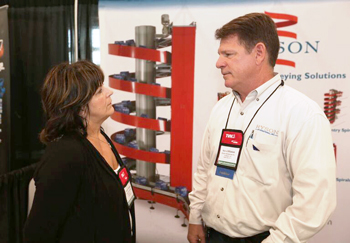 The 61st annual MHEDA convention took place at The Gaylord National Resort in Maryland last week. Ryson's Vice President of Sales, Steve Dillaman represented our company at the Showcase Exhibition held on May 2nd.
MHEDA (Material Handling Equipment Distributors Association) represents all segments of the material handling industry and offers industry specific business training and resources to help maintain and strengthen the member Companies. 630 MHEDA member companies represent over 250,000 employees. The MHEDA annual convention offers educational workshops, networking, information, statistical and trend analysis from special speakers – all specific to the material handling industry.
Visitors to our booth were entered into a drawing and we gave away two gift cards to the lucky winners. We are proud to be a part of this fine organization. For more information, visit their website www.mheda.org.