The Ryson modular design allows a standard option for a reversible Spiral.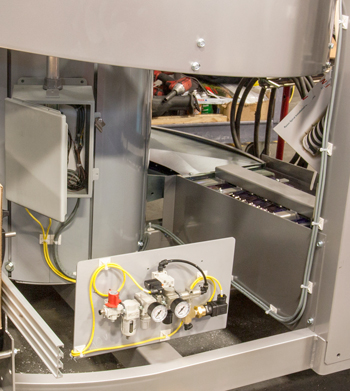 This week we shipped the first of two reversible spirals  model 1200-300 for our Integrator – Sentry Equipment & Erectors, Inc. – It will be delivered to a major craft brewery in the Pacific North West. The spiral option is often times used to create two way traffic, to and from an elevated mezzanine level.
Our reversible option includes our air tensioning device and an air manifold. The manifold consists of two pressure regulators, one for forward and one for reverse and a four-way spool valve whose solenoid shifts to the higher pressure when in reverse. Our reverse speed limit is 60 FPM. We can also furnish pre-wired control stations to make field implementation a breeze.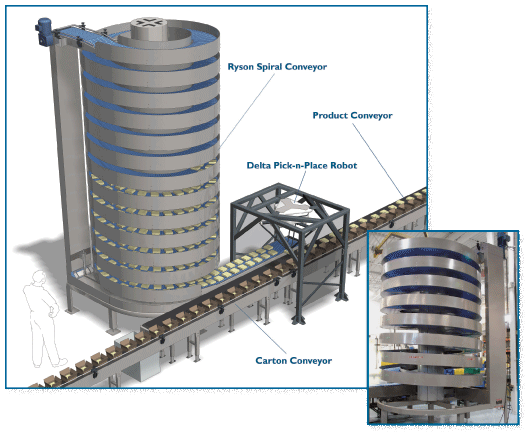 A Ryson reversible Spiral Conveyor can also be used in conjunction with a robotic pick and place module for dynamic buffering. The spiral conveyor provides vertical accumulation and buffers any imbalances in the flow of products or supply of cartons. The spiral accumulates products during over-supply and purges during times of under-supply, where the robot will load the cartons directly from the spiral. This dynamic buffering system compensates for intermittent operating interruptions and thereby significantly improves overall production efficiency.
Click Here to download an application spotlight (case study) to read about the set-up in detail. You can also read more stories about reversible spirals on our blog.