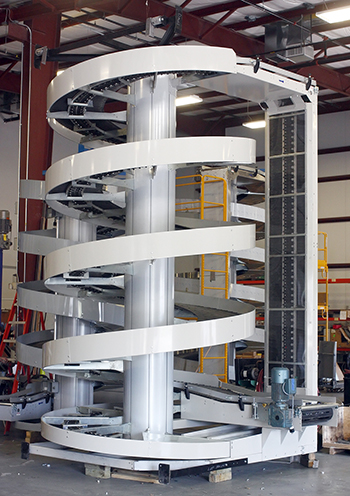 In the spring of 2003, Ryson International manufactured a spiral conveyor for a large coffee retailer distribution center. They needed to incline cases and totes between levels of a pick module.
Nine years later, the end-user asked their conveyor integrator: Conveyor Handling Company to re-design their system. A spiral would be needed to decline with different elevation parameters and speed. With Ryson's proprietary modular design, repurposing an existing spiral is easy, and considerably less expensive than the cost of a new vertical conveyor.
The old spiral was shipped to our manufacturing plant and was reconfigured. We are preparing to ship it back to be installed in their new system layout — At a fraction of the cost of a new spiral.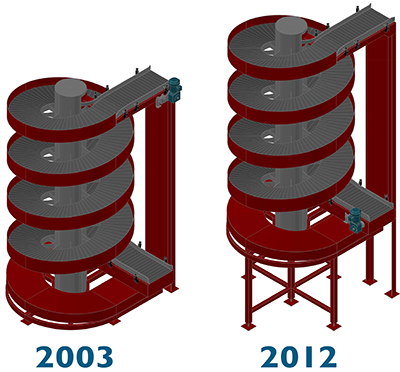 What sets Ryson apart is that our modular designs allows for our customer's spirals to be re-purposed to fit new line layouts. Many of these spiral reconfiguration projects are made in the field by our technicians, most of the time over a weekend.
Repurposing a 9-year-old spiral speaks volumes for the longevity and durability of our spiral conveyors and how we can lower the cost of ownership for our clients. Call the Ryson sales team if you think an existing spiral is a good candidate for reconfiguration.