Quick Modular Change Keeps Production Schedule on Time
Modular Designs Aids a Quick Change: Tuesday afternoon we got an e-mail from the Project manager of a large consumer products company in Canada. They mistakenly specified the wrong spiral configuration. Unfortunately it was slated to start in a production line the following Tuesday.
On Wednesday, the Ryson service, engineering and parts departments got together and determined what would be needed to reconfigure the spiral on site and communicated the estimated costs to the Customer. On Thursday we received go- ahead from customer to proceed.
On Saturday our technician arrived on-site to reconfigure the spiral and assist in the installation in the new line. And on Monday, the spiral was ready for the line start-up.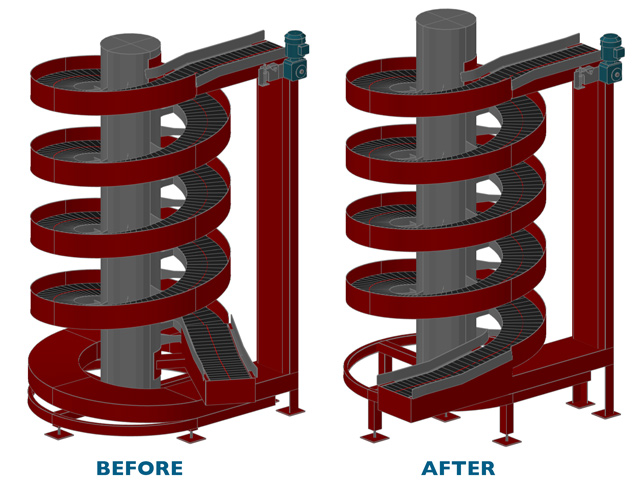 This example highlights two of our unique strengths in the market. One of the main features/benefits of our spirals is the modular design, allowing these kinds of quick modifications in the field. It makes re-purposing an existing spiral to conform to a new line layout a much easier and less expensive proposition. This customer has reconfigured a half dozen of their units in the last 5 years. The other Strength is that we are customer service based, and go to great lengths to assure customer satisfaction, and work with them to get exactly what they need. Read more stories on Ryson Spiral reconfigurations.