The Promat show is going well. The Ryson Spiral conveyors are always a crowd pleaser and stops people in the aisles.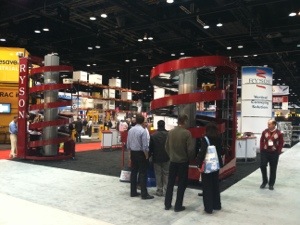 The show is well attended and there's is a buzz that business is picking up again. This show is centered around material handling and attracts a different market segment than some of the other shows Ryson attends.
Ryson is excited to show off the High Capacity Vertical Conveyor with the new induction conveyor design that allows materials enter the spiral at multiple elevations. This is particularly advantageous in the distribution and warehousing segment that often employ multi-tiered pick modules. This new Ryson technology makes it possible to use one spiral for all tiers saving considerable floor space; especially over traditional decline conveyor methods.
Ryson is also running their unit load spiral conveyor at the show. It is ideal for the efficient handling of cartons and totes in virtually any industry. To find out additional information about Ryson's vertical conveying solutions, please visit www.ryson.com.