Promat DX is fast approaching and we are pleased to announce that you can register free through us. The live virtual show will be April 12-16 and we have two sponsor presentations with live Q&A available and encourage you to add them to your show calendar. (You must be registered first)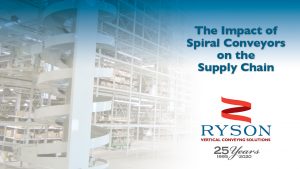 Monday April 12th at 2:15 PM CDT – "The Impact of Spiral Conveyors on the Supply Chain" – With Ryson's ability to induct and divert out of at intermediate levels, our spirals are perfect for e-commerce, warehousing and supply chain applications. Their reliability and longevity keep operations moving and require little maintenance and down-time. Find out how Ryson Spirals can streamline your process, save floorspace and ultimately lower your total cost of ownership.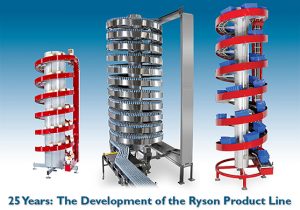 Wednesday, April 14 at 2:45 PM CDT – "Ryson Spirals: How 25 Years of Experience have Refined Vertical Conveying" – Looking back at Ryson's milestone 25th anniversary, a lot has changed since we delivered our first Spiral Conveyor… A novel space-saving concept for vertical conveying that drastically reduces floor space and greatly increases throughput. Our Spiral product line has steadily expanded beyond the initial case elevator design, and we have become the number one spiral manufacturer in the US, and a valuable component in Food and Beverage, CPG, Packaging and Warehousing and Ecommerce Markets to name a few. Ryson Spiral Conveyors need less floor space than conventional incline conveyors and are faster and more reliable than any elevator or lift. They are especially well suited for Consumer Packaged Goods companies and any warehousing operations.
A few thoughts about Ryson's 25th Anniversary  – Ole Rygh, Founder and CEO of Ryson International takes a few moments to reflect upon the 25 years of Ryson, and how the product line has evolved into new markets, and how business is growing, even in the era of Covid.
Click here to register though Ryson. Hope to see you at Promat DX! Don't forget to browse our current articles in our weekly news blog too.