Ryson encourages product tests at our modern manufacturing facility in Yorktown, Virginia.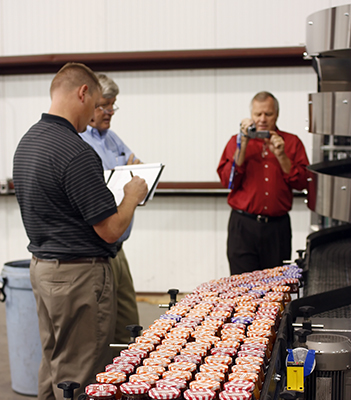 Ryson welcomes customers to conduct product tests on our spirals conveyors to evaluate conveyability and if special considerations are necessary. This process helps ease engineering concerns and may proactively address product handling challenges. The goal is to find the best possible solution for our customer's needs.  It is another example of the comittment we have to customer service.
In the photo, engineers from J.M. Smucker Company studies how their glass jar products behave when conveyed on our High Capacity Mass Flow Spiral Conveyor. Questions about side transfer, spiral volume and angle of incline were all answered satisfactorily.
If you would like to set up a product test or have any application questions, please visit www.ryson.com or give us a call at 757.898.1530.